Shopping mall large advertising display
Date:2022-02-22Click:340Author:Admin
In some large commercial complexes, a large advertising screen is usually installed at the window or door of a clothing store, restaurant, and flagship store of electronic products to play the store's product advertisements and the latest products, so as to promote sales and increase customer sources. The effect of this kind of advertising promotion on the big screen is so good?
first. Lightbox advertising is outdated
In our impression, in addition to banners, the advertising materials in the shopping mall are light box advertisements. Several light cabinets are installed in fixed positions, and then a photo inkjet cloth is installed to achieve a luminous effect through light irradiation. This method is very popular in the past few years, but the shortcomings are also very obvious. It can only be a fixed picture. It is very troublesome to disassemble when replacing, the picture is not clear enough, and the effect is not good when viewed close-up.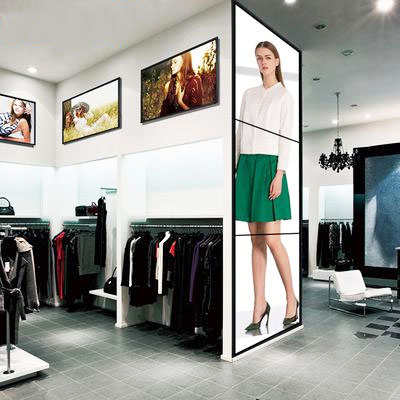 Second, the mainstream in the future----LCD splicing screen
The LCD splicing screen is a professional large-screen splicing display device, which itself can reach the high-definition display standard. It has almost no impact on vision. For example, in a women's clothing store, we can use 4 screens to splicing vertically to form a display area of ​​about 100 inches, and still maintain the aspect ratio of 16:9, so that we can use the computer to display the model. Pictures, videos, etc. are directly put on the big screen, and can be replaced at will. If you are in a restaurant, you can also display pre-made menus and various videos on a large screen, and the entire advertising large screen is more intelligent and high-definition.
And some users will ask whether it is possible to use an LED display? The answer is that it is best not to. Because they are all indoors, the viewing distance is usually relatively close, so the most stringent requirement for advertising a large screen is to have a high resolution, which can also look clearer. The disadvantage of LED is that the resolution is low. If it is grainy, it gives you the feeling that it is not clear. If it is outdoors, LEDs can be used at the gate of the shopping mall. If it is indoors, it is better to use an LCD splicing screen.
With the construction of more large-scale urban commercial complexes, many specialty stores need a large advertising screen to enhance the image of the storefront. Light box advertising has become a thing of the past. The suggestion is that users can choose the corresponding LCD splicing screen equipment according to the size of their storefront and installation location, that is, they can be installed horizontally or vertically.